John Deere
Hydraulic System Repair
Kin-Tec Industries re-manufactures OEM hydraulic pumps in house. We do NOT sell lesser quality aftermarket new pumps. Kin-Tec Industries exists to help you save money by extending the life of your John Deere radial hydraulic pumps. Unlike other companies that work on multiple parts by multiple manufacturers, we focus on John Deere hydraulics.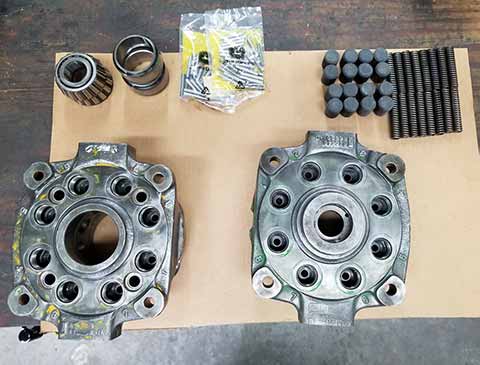 All of our parts that go into our pumps are manufactured here in the USA and NOT overseas where the tolerances and quality of steel is inferior. USA steel and US heat-treating is the only way to assure that the pump will last a long time. Aftermarket pumps are cheaper for a reason, don't lured by the cheap price of cheaper made and cheaper quality new pump. This enables us to be the specialist you need to get more life out of your hydraulic pump.
New pumps cost a lot of money … money you could surely put towards something besides replacing your old pump. Having your hydraulic pump remanufactured will save you hundreds of dollars.
We pride ourselves on being able to repair pumps that others are unwilling or unable to repair. When a pump comes into Kin-Tec, we break down the unit and inspect it to ensure that the individual pieces are structurally sound by using a magna flux. We clean the parts thoroughly before testing the performance of the pump to determine what needs to be done to restore it to excellent working condition.
The Kin-Tec Difference
By focusing solely on John Deere hydraulic systems, our technicians have a mastery with the parts and can repair them like it is second nature. We do our work in house, not by outsourcing it. Using our comprehensive machine shop, our experts can revitalize your equipment quickly, effectively, and cost efficiently for you. Our parts are guaranteed to fit the OEM part so that your pump will work as good as new.
When we replace bearing races, shafts, or pistons with new parts, they are Parkerized to improve their resistance to wear that normally occurs with repeated use. By having our machine shop in-house, we are also able to make custom modifications. When necessary, we can over size the housing to accommodate the parkerized parts.
Just like the warranties you'll find on brand new parts, Kin-Tec Industries includes a standard 90 day warranty on our work.
We even offer the warranty on more expensive pumps like the RE33468 and RE33603. Recently, we've begun to undersize these pumps, and sleeve their bores. This new design has proven to be very useful, and there is no loss of flow performance. This procedure will enable your pump to last longer than the original by operating at a cooler temperature. Our work results in an exceptional sleeve tolerance of less than .001, which results in a hydraulic system that isn't stressed and lasts longer. It also means your wallet will be less stressed and that your money will last longer.